Many of you may have already read my
first review
and my
second post
about
EdenFantasys
,
but now more than ever is a great time for me to share this awesome site with you guys,
because it's almost valentines day!
Firstly, I don't think I mentioned the
Sexis Magazine
from EdenFantasys in my other two posts.
It's awesome! It's informational, and always interesting!
They feature some great writers on Sexis, and I could spend hours reading
some of the articles! The one I read this morning was "
Valentines Day Gift Guide
"
Written by
If your looking for some ideas for you and your sweetheart on Valentines Day,
I'd suggest you read it too! :) It's funny, and it's insightful, and it has some great
ideas for everyone, if your looking to romance or just have fun, they've got gift
ideas I'm sure you'll love. I also love that they link up the gifts so you can
easily find exactly what your reading, and buy it, too ;)
If you read my last post about EdenFantasys, then you'll know I love lingerie,
and EdenFantays offers a huge selection of adorable items, especially for
this Valentines Day, have you thought about buying some
special lingerie
yet?
If lingerie isn't your thing, that's cool, EdenFantays still has thousands of different items
to choose from and I'm sure you'll find something exciting!
What I love about EdenFantasys the most is that they have something to appeal to everyone,
the site isn't just female friendly, or straight friendly, it's friendly to everyone all over
and it's not obtrusive, the site is organized and fun to visit!
I also visit EdenFantasys on Facebook and other social media, and if your an active Facebook user,
be sure to '
Like
' their Facebook page, '
Follow
' them on Twitter and
definitely check out their
blog
! They always update with awesome content!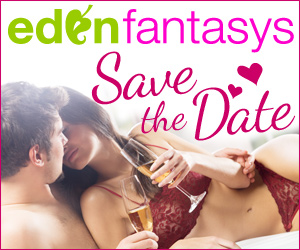 Check out some of the promotions they have going on right now.. AWESOME!
15% OFF $30.00+ PURCHASE
20% OFF $50.00+ PURCHASE
25% OFF $100.00+ PURCHASE
30% OFF $150.00+ PURCHASE
Plus, EdenFantasys is having a New Years Clearance where you can save up to 70%
on thousands of items, from toys and gear to lingerie.
If you haven't checked out EdenFantasys yet, now is the best time to do so!
Surprise your sweetheart with exciting gifts this Valentines Day, or spoil
yourself with something really nice.. Either way, go see
EdenFantasys
!